Venue
The European Convention Center Luxembourg (ECCL) is the seat of the Council of Ministers. It is also one of the most attractive conference centres in Europe and features a range of amenities and services designed to provide optimal working conditions and facilitate the hosting of events.
The ECCL is located in the heart of Luxembourg City, in the city's business district, just a stone's throw away from several comfortable hotels. It is easily accessible by tram or bus (get off at the "Philharmonie – Mudam" stop).
Access
Public transport
All public transport services in Luxembourg – whether by tram, bus or train – are free (as of 1 March 2020). The European Convention Center Luxembourg (ECCL) can be reached by bus or tram (get off at the "Philharmonie-Mudam" stop).

Mobiliteit.lu
The go-to website to plan your journeys using public transport (bus, tram, train, etc.) Download the Mobiliteit.lu app
Download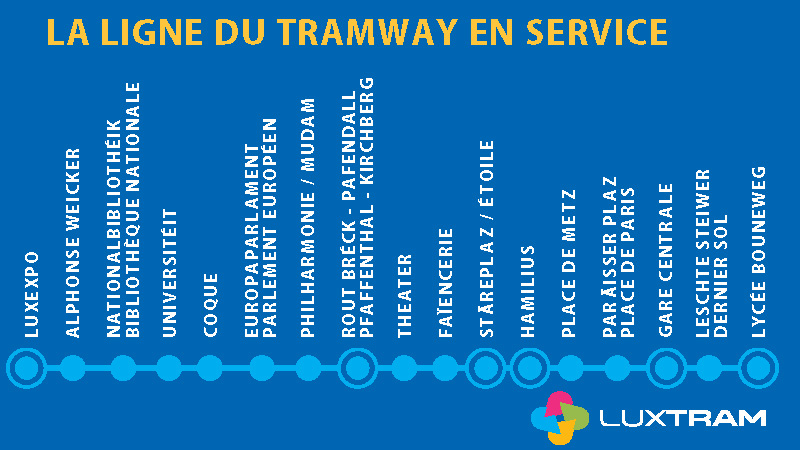 Tram
Tram station: Philharmonie-Mudam
By bus
Several buses stop near the ECCL. The best option depends on where you are departing from. To plan your journey, we recommend using the Mobiliteit.lu app.
By train
You can get to Luxembourg by train from many Belgian, German and French cities. To get to the ECCL from Luxembourg Central Station, take tram line 1 towards Luxexpo and get off at "Philharmonie-Mudam".
By car
There are two paid car parks located in the vicinity of the European Convention Center: the "Place de l'Europe" car park and the "Trois Glands" car park. Their combined capacity is 1,450 places.
By air
Luxembourg Airport is just 7 km away form the ECCL and is easily accessible from many European cities. To get to the conference venue from the airport, take the number 16 bus towards Kirchberg, get off at the "Rout Bréck-Pafendall" stop, then take tram line 1 to "Philharmonie-Mudam".
Accommodation
Partner hotels
here are many accommodation options in Luxembourg City (seeaccommodation in Luxembourg)
We have negotiated preferential rates for attendees with several high-end hotels near the ECCL that are easily accessible by public transport or car. As accommodation is not included in the conference registration fee, attendees will need to book their accommodation themselves.
Goeres Group
The Parc Plaza Hotel, located near the business district ( approximately 25 minutes by public transport from the ECCL) and less than 5 minutes' walk from the city centre of Luxembourg, is nestled in the heart of a green and welcoming neighbourhood. The warm welcome you will receive and its exceptional geographical location make it an ideal address for both business and leisure stays. The restaurant Le Bec Fin and its magnificent terrace overlooking the Pétrusse valley and the famous Pont Adolphe, the bowling alley and our banqueting and seminar rooms are at your disposal to make your stay memorable.
presentation of the hotels of the Goeres Group
Download the booking form for the de Hotel Plaza here
Please send your booking form to :
GOERES HOTELS 111
Avenue du Dix Septembre
L-2551 Luxembourg
Tel +352 44 23 23 23 23
Fax +352 45 61 41 220
Email : reservation@goereshotels.com
Accor Group
To take advantage of the special rates offered by hotels of the Accor Group (Mama Shelter, Novotel, Sofitel), please visit www.all.accor.com and insert the following promotional code: Code EVEBB.
Please note that the link above is only valid until 15 February, and only for stays from 25 to 28 March 2023 inclusive. For bookings outside this period, please contact the booking service directly.
Group Reservation Department
Novotel Luxembourg Kirchberg / Novotel Luxembourg Centre / Novotel Suites Luxembourg |
6 Rue du Niedergruenewald | L-2226 Luxembourg |
+352 42 98 48
+352 43 91 95
H1930-RE@accor.com
MELIÃ LUXEMBOURG ****
The Meliã Luxembourg is a modern hotel located in the Kirchberg district. It is designed in an innovative style and offers 161 bright and spacious rooms with panoramic views of the old part of Luxembourg City. Amenities include a wellness centre with a gym, a Finnish sauna, a Turkish bath and a lounge.
Book now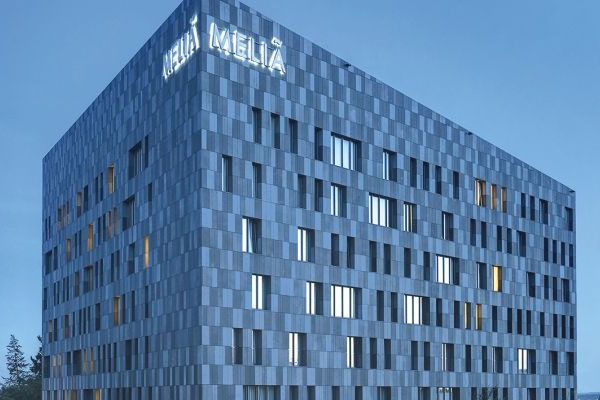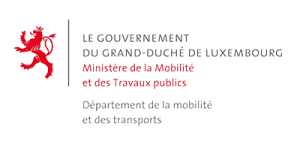 The Ministry of Mobility and Public Works
The governmental declaration has set out specific objectives for each of the departments within the Ministry of Mobility and Public Works, namely the Department of Mobility and Transport and the Department of Public Works.
The Ministry of Mobility and Public Works implements an integrated transport policy. The government seeks to ensure that addressing mobility bottlenecks for both professional and leisure activities is made a top priority.
The sustainable mobility strategy (Modu 2.0) serves as a set of guidelines, which need to be further developed and implemented, for this purpose.
The aim is to ensure good public transport coverage and to factor in active mobility in the planning stage of all road and rail infrastructure projects, public buildings, new housing developments, leisure facilities and shopping centers. Targeted management of parking areas will also be introduced.
In this context, following the strategy Modu 2.0, a national mobility plan will be elaborated and adapted to the needs and demands projected for horizon 2035.
In order to gather the necessary data for mobility planning in an efficient and continuous way, adapted to the constant evolution of needs, a mobility observatory will be put in place.
After the launch of the Modu 2.0 multimodal strategy in 05/2018 and the successful introduction of free public transport across the Grand Duchy of Luxembourg in 03/2020, François Bausch, Deputy Prime Minister, Minister for Mobility and Public Works, presented the National mobility plan 2035 during an international press conference on Friday 22nd April 2022.
The innovative PNM 2035 - National mobility plan offers a global concept capable of managing 40 % more trips compared to 2017. It implements the approaches recommended by the Modu 2.0 strategy for sustainable mobility, namely:
moving from a catch-up logic to a logic of anticipation of future demand;
first determine the number of people who will have to go to a specific place
and then reinforce the modes of transport best suited to the context and finally mobilize the four actors of mobility, i.e. the State, the municipalities, employers and citizens.
François Bausch, Deputy Prime Minister and Minister for Mobility and Public Works, also presented the PNM 2035 to the public during 10 public presentations.
To download and order the National mobility Plan 2035, available in English, German and French, or for more information visit: www.pnm2035.lu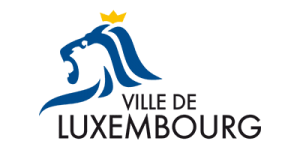 Luxembourg City
Luxembourg City is a cosmopolitan, multicultural city, scaled to human dimensions, located in the very heart of Europe. As a founding member of the European Union and the seat of several EU institutions, Luxembourg City not only ranks as one of Europe's foremost cities in terms of quality of life, but also boasts a rich and diverse population. Luxembourg City is home to 167 nationalities and has a population of over 128,000 residents. The city also attracts more than 200,000 daily commuters as well as a large number of tourists.
As the city's population has grown by more than 36% in the last decade, and because it is an attractive destination for companies and institutions, the City of Luxembourg is faced with a number of challenges in terms of mobility, making it a key priority in its development strategy. Accordingly, further to recent extensions and improvements, the City's bus network now comprises 39 lines covering the city's 24 districts. City of Luxembourg buses are used by more than 29.8 million passengers and cover some 13.2 million kilometres each year. And the city's public transport offering has been further enhanced with the introduction and extension of the city's tram system. As its ultimate goal is to create future mobility options that are sustainable and efficient, the City of Luxembourg has begun taking steps to complete the electrification of its entire fleet by 2030.
In addition to its public transport services, The City of Luxembourg has also introduced other measures, including a car-sharing system (carl'OH), a self-service bike rental system (vel'OH), and the development of a cycle network comprising some 170 km of cycling routes.
At the Mobil-Lux conference, Luxembourg City Mayor Lydie Polfer will present an overview of the city's mobility strategy and its Mobility Plan.
For more information, see Our Mobility Plan for Tomorrow | Ville de Luxembourg (vdl.lu).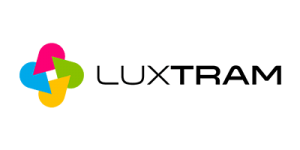 Luxtram
LUXTRAM– a publicly owned limited company (société anonyme à capitaux publics) – is the Luxembourg enterprise tasked with the planning, development, building and operation of the tram system in Luxembourg City and neighbouring municipalities. It is also responsible for the management and maintenance of all tram-related infrastructure and of the trams themselves. It carries out all studies and building works in connection with the city's tram system, and is the competent authority for the awarding of contracts and the procurement of rolling stock.
LUXTRAM expects line 1 to be fully completed – from Findel Airport to Cloche d'Or – by the end of 2024. Two years ago, LUXTRAM was awarded the contracts for future extensions of the City of Luxembourg tram system and the construction of a high-speed tram link between Luxembourg City and Esch-sur-Alzette.
Luxtram is unquestionably a key contributor in the process of diversifying the public transport system and developing sustainable mobility in Luxembourg. As one of the co-organisers of the Mobil-Lux Conference, LUXTRAM is looking forward to sharing its expertise and operational experience with attendees involved in the mobility sector.
Mobil-Lux Organisation Committee
The Mobil-Lux Organisation Committee comprises representatives from the three organisations mentioned above, and is supported by two scientific experts, one German-and one French-speaking.